Spend a Weekend in Florida's Most LGBTQ+ Friendly Small Town
​Wilton Manors just might be the most vibrant small town in America.
THERE'S A TINY TOWN IN SOUTH FLORIDA THAT MIGHT BE
 the most LGBTQ+ friendly place in America. Drive forty minutes north of Miami, and just outside Fort Lauderdale you'll encounter the ultra-progressive, culture-packed town of Wilton Manors—a tight-knit community driven by its unabashed embrace of all expressions of queerness.
Home to about 13,000 residents, this gayborhood resets the bar for inclusivity. Nicknamed "Island City" (it's surrounded by canals on all sides), Wilton Manors has been an LGBTQ+ stronghold for decades; back in 1988, its denizens elected the very first openly gay official serving in Broward County. A decade later, Wilton Manors became the first municipality in Florida (and the second nationwide after Palm Springs) to elect an all-LGBTQ city commission.
Wilton Manors has flourished as a hub for queer entrepreneurship anchored by its main drag, Wilton Drive. Today, "The Drive" boasts an extraordinarily dense roster of over 40 independent LGBTQ+ owned businesses, from sushi shops to retro candy stores and even a bakery opened by one of Wilton Manors' gay ex-mayors. You can support those businesses by going thrifting, grabbing a coffee, shooting some pool, even getting your eyes examined; here, queerness is baked into the fabric of everyday life.
While Wilton Manors certainly has its fair share of rowdy bars and multi-level nightclubs, for the most part, Island City eschews the over-the-top flashiness that characterizes neighboring LGBTQ+ bastions like South Beach. The open-minded burg strives to retain its small-town charm, appealing to families and other groups seeking respite from South Florida's overbuilt beach resorts.
But if there's one time of year that guarantees nonstop debauchery, it's the annual Stonewall Parade & Street Festival in June. The streets become an open-air dance floor during one of Florida's most vibrant Pride celebrations, drawing up to 30,000 attendees each year. And this year, with the theme "Out of the Darkness and Into the Light," Wilton Manors is gearing up for a buoyant "coming out" from the pandemic party on June 19th, with six concert stages and a kaleidoscopic Pride march down The Drive.
LGBTQ+ pride is baked into the fabric of everyday life

| WILTON MANORS STONEWALL PRIDE PARADE & STREET FESTIVAL PAGE
Exploring Wilton Drive
The beating heart of the Wilton Manors universe is undoubtedly Wilton Drive. Spanning five blocks, a sense of camaraderie unites the LGTBQ+ owned businesses here. "We immediately felt welcomed to The Drive by the other businesses," says nightclub owner Mark Hunter, who opened the third outpost of Hunters here in 2013. The now-iconic dance club concept is one of the towns' most popular after-dark haunts.
"Most of the bars work well with each other—we even have a group on WhatsApp to communicate," says Hunter. "Almost all of the businesses do charity work as well, and that enriches the lives of our close-knit LGBTQ+ community."
The brilliance of nightlife in Wilton Manors is that, despite its small size, no person is excluded from the fun, with spots along The Drive catering to all queer identities, preferences, and fetishes. "You can find a leather bar, a male dancer bar, a bar that caters to the trans community, a drag bar, a cabaret bar…you get the picture," adds Hunter. "Here in Wilton Manors, there is just about something for everybody."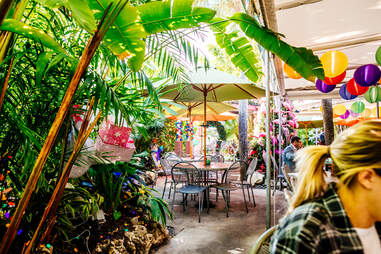 The lush outdoor patio at Rosie's, a Wilton Drive staple

 | PHOTO COURTESY OF VISIT LAUDERDALE
That wasn't always the case. "We're the longest-running business that hasn't changed hands on The Drive," says John Zeiba, one of the founders of Rosie's Bar and Grill. The D.C. native recalls opening 19 years ago at a time when gay hotspots had no choice but to operate discreetly with dark windows and security at the door. These days, things couldn't be more different.
"It's amazing to see the influx of different businesses; new bars, places to eat, and art galleries," says Zeiba. Over the years, the clientele has evolved as well—though maybe not in the way you'd expect. "We're getting so many more straight people at Rosie's than when we first opened. Overall, it's become a very diverse crowd, especially with families," he adds. "You see every type of person you could imagine hanging out here together."
Sebastian Street Beach is one of America's greatest gay beaches

 | MARIAKRAY/SHUTTERSTOCK
The best things to do on a weekend in Wilton Manors
When in doubt, just pull up to the Shoppes of Wilton Manors. The one-stop Shoppes is perhaps the world's gayest strip mall, hosting 40 or so of the town's most cherished establishments across its canary-colored buildings, most of them LGBTQ+ owned and operated.
Fuel up at community-driven coffee joint Java Boys in the morning, then gorge on sashimi at Tee Jay Thai Sushi for lunch. Return for a rowdy night starting with a bite and brew at Wilton Manors' original gay bar Alibi & Monkey Bar, then mozy across the plaza to take on the dance floor at Hunters.
There's a lot that awaits further down (and just off) The Drive. Snag a seat on Rosie's lanai to try the famous Big Girl Burger and other punny dishes like Quinoa Tifah and Kaling Me Softly, or go for tacos and tequila at Tulio's. Cocktail bar Drynk has a stellar patio for sipping and socializing with a younger klatch of patrons.
At The Yard (a.k.a. Eucalyptus Gardens), you'll find a bohemian retail and art corridor with vintage boutiques, a farmers market, casual eateries, and mural-framed walkways; thrift stores Out of the Closet and Wilton Collective donate proceeds to LGBTQ+ charities.
And don't pass up a visit to The Stonewall National Museum & Archives, the nation's largest LGBTQ+ museum, as well as the World AIDS Museum, the first-ever institution dedicated to the history of the HIV/AIDS epidemic, whose exhibits are anchored by first-person accounts from those affected by the disease.
Wilton Manors has a wild side, too—and we're not just talking about the Bear Cave at The Eagle or Saturday's pig dance at Ramrod Leather Bar. While Everglades National Park is just an hour's drive away, Island City also lays claim to 15 parks certified by the National Wildlife Federation, and thirteen miles of waterways teeming with hundreds of species of native flora, birds, mammals, and marine life.
Slather on the SPF and kayak around the entirety of Wilton Manors via the Middle River, then stroll the elevated boardwalk at Colohatchee Park, a seven-acre swath of protected mangrove forest. And no shame if your version of the outdoor adventure is a day at the beach. One of America's gayest stretches of sand, Sebastian Street Beach, isn't far.
Explore the thoughtful exhibits at the Stonewall National Museum

 | STONEWALL NATIONAL MUSEUM & ARCHIVES
Where to stay
Support small businesses and stay at a gay guesthouse. Though there's no association with the French fashion house, Casa Hermès could be described as the Birkin bag of Wilton Manors' guesthouses. It's one of the newest on the scene—and by far the most design-savvy—with mod Italian furnishing, premium linens, and rooms with balconies that overlook the backyard pool.
Two blocks away from the Shoppes of Wilton Manors, Ed Lugo Resort comprises a clutch of individually styled 1950s bungalows scattered on lush Bali-esque ground. Each of the nine rooms has its own private entrance; king suites boast full kitchens and outdoor tropical showers, and there are also two-bedroom options for those bunking with friends or another couple. And you mustn't skip a dip in the pool. The 40-foot stunner has it all: waterfalls, orchids, hammocks. Gay Tarzan himself could swing right out of the dense tropical shrubbery—but minus the loincloth. This zone is clothing-optional.
Paul Jebara (@pawljebara) is a travel writer, content specialist, and polyglot based in New York City.
Scott Rivelli
Realtor Associate
Whether you're Selling, Buying, Investing or Leasing Real Real Estate, location, timing and a hiring the best real estate professional to represent you are key factors to any successful real estate transaction. Call me today to help move you in the right direction for all your real estate needs.
To find out what your home is worth in today's market, fill in your contact details below and I'll personally send you a  detailed estimate of your home's value.